COVID-19 Note:
Access to APC's buildings is temporarily restricted due to Covid-19.  You are invited to join us online for Sunday worship each week via our Online Worship page or YouTube (search for Alpharetta Presbyterian Church).  Our small groups, Bible study classes, and children's and youth groups are meeting via Zoom. Please subscribe to The Good News, our weekly church e-newsletter, for details.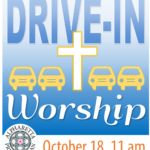 Drive-In Worship Services
Each Sunday at 11:00 am*, APC's pastors lead worship outdoors from a raised platform in our back parking lot with worshippers participating from their car, listening in via a special radio channel (90.5 FM) or rolling down their windows to listen via outdoor speakers. Greeters will guide you to a parking spot as you enter the property. Please arrive a bit early! More details about how it will work can be found in this document. Please note that we will continue to offer our regular online worship services via YouTube.   *If the Drive-In Service needs to be cancelled due to inclement weather, we will notify the congregation via email and post a message on our website's home page.
Our Worship Services
Alpharetta Presbyterian Church welcomes all to our worship services! Our services are traditional, with congregational liturgy, a scripture-based sermon, hymns sung by the congregation, special music provided by choirs and instrumentalists, and a children's message. Holy Communion is served on the 1st Sunday of each month, and on other Holy Days throughout the year.
The ushers will provide you with a bulletin containing an easy-to-follow order of worship. Click here to view a sample Sunday bulletin. To ensure that all feel welcome, we provide:
Handicapped accessible building
Hearing assistance devices
Large-print Bibles, hymn sheets, and bulletins
Gluten-free wafers for Communion
Nursery for ages 0-3; KinderWorship for age 4 through 1st grade
Promise Class for special needs children during Sunday services
Typical Sunday Schedule
| | |
| --- | --- |
| 8:00-9:30 am | Breakfast Buffet in Fellowship Hall ($5), prepared by volunteer Men's Breakfast Crews. Our breakfasts are delicious—join us! |
| 9:30-10:30 am | Worship Service in the Sanctuary |
| 9:30-10:30 am | Sunday School for  Adults, Children (age 5 through 5th grade), and Youth (middle and high school). Drop-ins are always welcome. |
| 10:30-11:00 am | Fellowship Gathering with coffee and pastries in Fellowship Hall |
| 11:00-12:00 pm | Worship Service in the Sanctuary |
Young Children on Sunday Mornings
Nursery: Our professionally-staffed nursery is available each Sunday from 9:15 a.m. to 12:15 p.m. Newborns through 24-month-olds are in our Infant Nursery. 2 and 3-year-olds enjoy a separate Toddler Nursery in our large divided space.
Children's Message: Children are invited to come forward and sit on the chancel steps with our pastors for a brief Children's Message during both worship services.
KinderWorship: During the 11 a.m. service, we offer KinderWorship for ages 4 through 1st grade. After the Children's Message, kids who choose to participate are led by a staff member to the Sunshine Room (110) for a short lesson, craft or activity, and playtime outside, weather permitting. Parents pick up their children after the worship service. Parental sign-outs are required.
Worship Activity Bags: Designed to keep little hands busy during worship services, our age-appropriate activity bags may be found in the lobby outside the sanctuary.
Holy Communion
You don't have to be a member of the church or even a Presbyterian to participate in the sacrament of the Lord's Supper (Holy Communion). There is no age requirement. Communion is served on the first Sunday of each month and on other days determined by the liturgical calendar. Most of the time, the elements (bread and grape juice) will be brought to you by church elders as you sit in your pew. We also offer a gluten-free alternative. Please notify the elder serving communion.